Gustav Sinning Genealogy
Record modified: 2012-04-08
This is my direct ancestor 3 generations back.


Born: 1883-03-01 Morris, Grundy Co, Illinois USA
Died: 1963-02-27 Mountain Grove, Wright Co, Missouri USA
---
Marriages:
1. 1912-02-07 Della Cyntha McCaskey

---
Children of Gustav Sinning and Della McCaskey:

| | |
| --- | --- |
| Ella Lee Sinning | |
| Elmer Louis Sinning | |
| Edith Pearl Sinning | |
| Earl William Sinning | |
| Eunice Mae Sinning | |
| Elvin Dean Sinning | |
| James Daniel Sinning | |
| Darlene Nelda Sinning | |
---
Notes: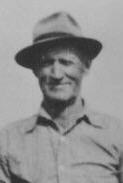 married in W Plains, Howell Co MO
buried in Hillcrest cemetery, Mt Grove, Wright Co MO

They also had a son Albert Gustav 1912-02-xx d 1912-02-xx.

--
from a writeup by daughter Ella:
Gustav filed for land in Oklahoma in 1907. His patent was granted in 1911. He worked for many of the old time ranches, including those of Anchor Dee and the Easterwoods, as a Bronc Buster.

--
I have a copy of his wedding picture to Della that I got from a relative. On the paper is a note which gives Gustav's parents as Conrad William Sinning Sr and Malinda Grunstad.

--
Morris IL is about 10 miles from the Kendall Co line.

--
His registration card for the WW1 draft shows his birth date as 1883, but I had always seen 1882.
It gives his address as RFD D, Guymon, Texas Co OK. He is described as a tall man of medium build, with blue eyes and brown hair.

--
BLM General Land Office records, Woodward OK land office

Texas Co OK, serial no 213988
1911-06-29 Gustav W Sinning 160 acres
SE 1/4 of section 25 in Township 5 N Range 13 E of the Cimarron meridian

--
1930 census Texas Co OK p121b, Camp Keltner twp
Gus W Sinning 47 IL/GER/IL
wife Della C 33 MO/KY/MO
dau Ella L 16 OK
dau Elma L 15 OK (sic)
dau Pearl E 13 OK
son Earl W 12 OK
dau Eunice M 10 OK
son Alvin D 8 MO
son Frank E 6 MO
(living)
son James D 2 MO
(living)
visitor Lillie White 42 KS/GER/RUS
visitor William P White 18 TX/KS/KS
visitor Katherine M White 16 OK
visitor Ethel V White 13 MO
visitor Edgar S White 4 MO

He is a farmer. He and his wife can read and write. They own their home, and a radio.
The Whites were from Mountain Grove MO and may have been neighbors of Gustav while he lived there in the 20s.
[Camp Keltner twp is 23 miles north of Goodwell.]

1920 census Texas Co OK p1a, Camp Keltner twp
Gustav Sinning 36 IL/GER/IL
Della 22 MO/MO/MO
Ella L 6 OK
Elmer 4 11/12 OK
Pearl E 3 6/12 OK
Earl W 1 9/12 OK

He is a farmer. He owns his home free.

1910 census Clay Co KS p118b, Clay Center twp
Henry A Blane household
hired man Gus W Sinning 27 IL/GER/IL

[Clay Center twp is in the middle of Clay Co, containing the town of Clay Center.]

1900 census Grundy Co IL p116b, Saratoga twp
Ole Duvick household
Gustave Sinning 18 1882-02 IL/GER/IL

He is a farm laborer.
[Saratoga twp is on the north boundary of the county, in the center.]

---
Hinds Site: Genealogy of Ken Hinds -- page 28 I strive for accuracy, but I cannot guarantee this information is correct or complete. Hard references are given where I have them, but otherwise you should verify this information.
Please email me if you have any corrections, comments, or questions.
Notice: Because of spam, any email without the word "genealogy" in the subject will be deleted unread.