Olla Roberts Genealogy
Record modified: 2019-08-28
This is my direct ancestor 3 generations back.


Born: 1871-06-10 New Market, Taylor Co, Iowa USA
Died: 1897-01-23 Rye, Pueblo Co, Colorado USA
---
Marriages:
1. 1889-12-19 Elmer Elsworth Zentz

---
Children of Olla Roberts and Elmer Zentz:

| | |
| --- | --- |
| Coryl Leta Zentz | |
| Herman Cliff Zentz | |
| Hazel Imogene Zentz | |
---
Notes: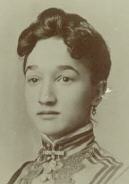 Her marriage record has her 19 years old in 1889.
She was orphaned before age 12. Both parents died of TB, and so did she.

--
from the Mt Vernon (MO) Fountain & Journal, 1897-02-04:

Died, at Rye, Colorado, Mrs E E Zentz, January 23, 1897, age 25 years, 7 months, and 13 days.
Deceased was born in Taylor Co Iowa June 20, 1871 and was the daughter of Mr and Mrs J M Roberts.
She was married to Mr E E Zentz December 18, 1889. To this union were born four children, three of
whom are living. Mrs Zentz and her husband were residents of Mammoth Springs, Arkansas from their
marriage until 1894, when they moved to Mt Vernon where they resided until forced to travel for her
health. In May last they left for Colorado.
Although not connected with any church, she was a believer in Christianity, as her faithful life and Christian
acts proved, also by expressing in her last hours of seeing the power of life, and her father and mother
beckoning her to come. She was a dutiful child, a faithful wife, and a kind mother.
The funeral services were held at the M E church south, at Rye Colorado, by the Rev J B Wood. The
remains were buried at the Rye cemetery by the side of her baby son, who preceded her by three months
to the better land.

--
1885 state census Taylor co IA p481
Clark Odell 56 OH
Mary 51 OH
Lester 23 Taylor Co
Oren Roberts 15 Taylor Co
Ollie Roberts 14 Taylor Co

1880 census Taylor Co IA p102b, Mason twp
Clark Odell 51 OH/VT/OH
wife Mary 47 OH/OH/OH
son Warren 24 IN
son Lester 18 IA
son Leonidas 16 IA
gson Orem Roberts 11 IA/IL/OH
gdau Ollie Roberts 10 IA/IL/OH
gson Leroy Roberts 5 IA/IL/OH

She attended school within the last year. She can read and write.

---
Hinds Site: Genealogy of Ken Hinds -- page 16 I strive for accuracy, but I cannot guarantee this information is correct or complete. Hard references are given where I have them, but otherwise you should verify this information.
Please email me if you have any corrections, comments, or questions.
Notice: Because of spam, any email without the word "genealogy" in the subject will be deleted unread.