Walter Hinds Genealogy
Record modified: 2012-04-08
This is my direct ancestor 3 generations back.


Born: 1879-05-30 Bethpage, McDonald Co, Missouri USA
Died: 1961-08-22 Guymon, Texas Co, Oklahoma USA
---
Marriages:
1. 1901-05-15 Ida Ellen Clinkingbeard

---
Children of Walter Hinds and Ida Clinkingbeard:

| | |
| --- | --- |
| Cecil Floyd Hinds | |
| Earl Evert Hinds | |
| Virgil Vester Hinds | |
| Myrtle Beulah Hinds | |
| Hazel Bernice Hinds | |
| Clifford Merl Hinds | |
| (living) | |
| Wayne LeRoy Hinds | |
---
Notes: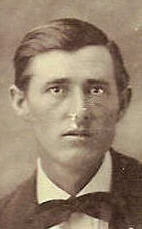 He was a tall man with black hair and brown eyes. He was a farmer.
They lived in MO for a while after their marriage, then moved to Pawhuska OK. In 1905 they moved to
the OK panhandle in a covered wagon. They farmed about 21 miles north of Guymon until about 1947,
when they retired and moved into town.

buried in Elmhurst cemtery, Texas Co OK; section between 500 St and 600 St, and between B St and C St

--
His registration card for the WW1 draft shows his address as "D", Guymon, Texas Co OK. I think that is RFD "D".

--
BLM General Land Office records

Woodward land office, Texas Co OK, serial no OKW0011380
1911-06-29 Walter F Hinds 160 acres
NW 1/4 of section 34, Township 6 N Range 14 E of Cimarron Meridien

[That's 5 miles south of the OK/KS state line, and 3 miles west of OK 136.]

--
1940 census Texas Co OK p2a, Advance twp
Walter Franklin Hinds 60 MO
wife Ida Ellen 58 MO
dau Bernice 25 MO
son Clifford Murrel 22 OK
son Wayne Leroy 17 OK

He gave the info.
He is a farmer. He worked 38 hours in the reference week. He worked 52 weeks in 1939, but earned no money.
They own the farm, worth $2000.
They lived on the same farm in 1935.
He has a 6th-grade education; Ida has an 8th-grade.

1930 census Texas Co OK p116b, Advance twp
Walter F Hinds 50 MO/AR/TN
wife Ida E 49 MO/MO/TN
son Earl 24 OK
son Virgle 20 OK
dau Mertal 18 OK
dau Bernis 15 OK
son Clifford 12 OK
son Wayne 7 OK

He is a farmer. He and his wife can read and write. They own their home, and a radio.
[Advance twp is 27 miles north and 2 miles east of Goodwell, on the north boundary of Texas Co.]

1920 census Texas Co OK p3a/b, Advance twp
Walter F Hinds 40 MO/TN/TN
wife Ada E 38 MO/MO/MO
son Cecil 17 MO
son Earl 14 OK
son Virgil 11 OK
dau Myrtle 7 OK
dau Bernice 6 OK
son Clifford 2 5/12 OK

He is a farmer. He owns his home free.

1910 census Texas Co OK p35a, Advance twp
Walter F Hinds 30 MO/US/TN
Ida E 29 MO/US/US
Cecil F 7 MO
Earl E 4 OK
Virgil L 11/12 OK

He is a farmer. He owns his home free. They have been married 8 years. She has had 3 children, all living.

1900 census McDonald Co MO p36
John B Hinds 63 AR/TN/TN
wife Nancy B 62 TN/unk/unk
son Walter F 21 MO

1880 census McDonald Co MO p248
John B Hinds 43 AR/TN/TN
wife Nancy B 42 TN/KY/TN
son Walter F 1 MO

---
Hinds Site: Genealogy of Ken Hinds -- page 17 I strive for accuracy, but I cannot guarantee this information is correct or complete. Hard references are given where I have them, but otherwise you should verify this information.
Please email me if you have any corrections, comments, or questions.
Notice: Because of spam, any email without the word "genealogy" in the subject will be deleted unread.