James Rigsby Genealogy
Record modified: 2014-08-16


Born: about 1763-00-00 Duplin Co, North Carolina USA
Died: 1853-00-00 Wake Co, North Carolina USA
---
Marriages:
1. 1786-12-07 Rebecca Moore

---
Children of James Rigsby and Rebecca Moore:


---
Notes:

[R02]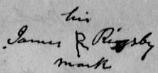 His pension application (below) says he was born in Sampson Co NC, but it wasn't formed until 1784. At the time the area was in Duplin Co.
He died between 1850 and 1860.

His mother's name was Tabitha.
William of Surry Co NC probably had a daughter Tabitha, which suggests William was a brother of this James.
I think he was the James who was brother of Frederick and Jesse. I think the three also had a brother Thomas.

married in Wake Co NC

His children might include: Wooton/Woodson, Edward, Archibald
Were his sons John and James the same as this John and this James? (No, because the other James was born before 1800.)
He had a daughter who married Thomas Cope. There appears to be only one Thomas Cope in Wake Co, and records show he married 1832-09-06 Elizabeth Todd. Maybe James' daughter was Thomas' first wife?

He was a farmer.

--
Wake Co NC records book A p7
1772-06-02
James Rigsby apprenticed to Amos Runnels to learn occupation of
tanner and shoemaker until age 21 now being 9. Witness John Rice

--
This is the James Rigsby who served in the Revolutionary War.
He enlisted 1782-01-10 in Coleman's Company for 12 months.
He received a pension beginning 1831-03-04. [His age is given as 71 on that date.]

--
"US Pensioners 1818 - 1872"

North Carolina
Private James Rigsby 20/month 1831 to 1848
Private James Rigsby 20/month 1849 to 1853

--
From the Margie Boyd book

Wake Co NC deeds

Deed Book K:178 1797-11-03 State Grant #1271 to James Regsbey for 100 acres on Hairsnipe Crk
adj Kimbrough, Henry Warren, and his own line. Warren dated 1791-03-25.

Deed Book Q:388 David Delk of Wake County to James Rigsby of Wake County for $293.50,
293 1/2 acres on Great Lock Crk; adjoining Henry Massey and Gabirel Shaw. Wit: J Brasfield, John Massey

--
Wake Co tax lists show this James:

1809 -- Lick Creek district
1812 -- Lick Creek district
1815 -- Lick Creek district
1817 -- Lick Creek district
1818 -- Lick Creek district
1820 -- Barton's Creek district
1826 -- Kitt's Creek district

[That last one may actually be his son.]

--
State of North Carolina
Wake Co
Court of Pleas and Quarter Sessions
November term 1832

On this the 19th day of November 1832 personally appeared in open court before the Justices of that
court of Pleas and Quarter Sessions for the county of Wake NC now sitting, James Rigsby a resident of
the county & state aforesaid, aged 69 years, who being first duly sworn according to law, doth, on his
oath, make the following declaration in order to obtain the benefit of the act of Congress passed June 7th 1832.
That he is a native of Sampson Co NC where he was living when he enlisted in the continental service
in the year 1782 for the term of 12 months under Capt Mills & Major Mcrea. Under these officers he
marched into South Carolina to a place called the Pond Ponds which was the head quarters of the army
under the command of Gen Greene. There he was stationed for some considerable time & then he was
marched across Ashley River above Charleston a few miles & then continued until his 12 months
expired. The declarant states that he belonged to the 10th Regiment of the Continental Line of this
state & that he believes he entered the service on the 10th of January in the year 1782. He further
states that he once had a record of his age but that it is now lost. That he has lost his discharge & that he
has currently been residing in Wake County ever since the close of the Revolutionary War.

--
"North Carolina, Probate Records, 1735-1970"
Wake Co Wills, Inventories, Settlements, 1852-1855, Vol. 28 p319

I James Rigsbee of the County of Wake
and state of North Carolina being of
sound mind and memory, but consider
ing the uncertainty of my Earthly ex
istence, do make and declare this my
last will and Testament in manner and
form following that is to say

First that my Executor hereinafter
named shall provide for my body a de
cent burial, suitable to the wishes of
my relatives and friends, and pay all
funeral Expenses, together with my just
debts, howsoever, and to whomsoever
owing, out of the monies that may first
come into his hands, as a part and par
cel of my Estate.

Second I give and devise to my daug-
hter Mary Barker the whole of the tract
of land whereon I now live, with all
the appurtenances belonging thereto in
every particular whatsoever, excepting the
crop which shall be growing on the same
at the time of my death, should there
be any, also one horse and bridle, her
choice one Cow and Calf, her choice
six sitting chairs, her choice one ____
leaf table, and ample provisions for
to support her and family, and stock
for one whole year, to her and her
bodily heirs forever. Furthermore I
loan to my friend George B Allen in
trust for my daughter Mary Barker
during her natural life one negro boy
named Henry to be by him managed
in whatever manner he may think will
best promote the interest and conveni-
ance of my said daughter, and after
the death of my said daughter Mary
Barker I give and bequeath the said
negro boy Henry to my Grand Son
James E Rigsbee son of Wm Rigsbee, to
him and his heirs forever.

Third And I desire that all the bala-
nce of my property, consisting of negroes
& stock of all descriptions, house hold
and Kitchen furniture, working utensils
and every species of property of every
kind whatever not named above, shall
be sold to the highest bidder on a
Credit of nine months with bond and
good security, and all the monies arising
from such sale or sales, and all that
may be due or on hand at the time of
my death after paying my Just debts
to be divided into four equal parts
and one fourth part of the said money given
to my son William Rigsbee and his
heirs forever, and one fourth part I
give to my daughter Elizabeth Kinnon
and her heirs forever, and one fourth part
I give to my son in law Thomas Cape [Cope?]
and his heirs forever, and one fourth
part I desire to be equally divided among
all the children of my daughter Sarah
Gill deceased, wife of Buckner Gill
also deceased to them and their heirs
forever, and lastly I hereby appoint my
trusty friend George B Allen my law
ful Executor to all intents and purpo-
ses, to Execute this my last will and
testament according to the true intent
and meaning of the same and every
part and clause thereof hereby revoking
and declaring void (utterly) all other wills
and testaments by me heretofore made.

In witness whereof I the said James Rigsbee
do hereunto set my hand and seal, this
the third day of February One thousand
Eight hundred and fifty three.

witness:
Joseph W [?] Thomas
William C Bledsoe
John J Lee

[proved August term 1853]

--
1850 census Wake Co NC p251b
James Rigsby 88 NC
Mary Barker 55 NC
slave (m) 55
slave (f) 45
slave (m) 16
slave (f) 14
slave (m) 11
slave (f) 8
slave (m) 7
slave (m) 5

1840 census Wake Co NC p153
James Rigsbee 1 M 10-15, 1 M 70 - 79, 1 F 10-15, 1 F 40-50, 1 BM 10 - 23
Slaves: 3 M 0 - 9, 1 M 36 - 54, 1 F 0 - 9, 1 F 36 - 54

[The older female is probably Mary Barker. The children are probably hers.]
[Next door is Edmond Barker 50-60 who could be Allen's father.]

1830 census Wake Co NC p490
James Rigsbee 1 M 60 - 69, 1 F 15-20, 1 F 60 - 69, 2 BM 0 - 9, 1 BM 10 - 23, 1 BF 10 - 23
[James 67, x, Rebecca]

1820 and 1810 census records for Wake Co NC are missing. Tax records for 1820 show James Sr and James Jr Rigsby. Tax records for 1809 show a James Rigsby.

1800 census Wake Co NC p757
James Rigsby 1 M 0 - 10, 2 M 10 - 16, 1 M 26 - 45, 2 F 0 - 10, 1 F 10 - 16, 1 F 26 - 45
[John 5, William 12, x, James 37, Mary 5, x, x, Rebecca]

1790 census Wake Co NC p104
James Rigsby 1 M 16+, 2 M 0 - 15, 2 F
[James 27, William 2, x, x, Rebecca]

---
Hinds Site: Genealogy of Ken Hinds -- page 5858 I strive for accuracy, but I cannot guarantee this information is correct or complete. Hard references are given where I have them, but otherwise you should verify this information.
Please email me if you have any corrections, comments, or questions.
Notice: Because of spam, any email without the word "genealogy" in the subject will be deleted unread.